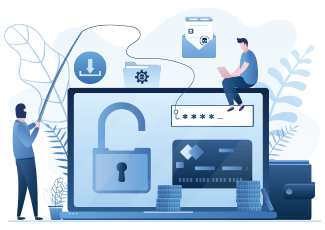 Our Advanced Threat Protection is the most comprehensive protection solution. Built to stop the widest range of attacks, it has been proven to prevent even the most advanced ransomware and malware with a unique combination of next-generation techniques. This includes the ability to detect never-before seen malware, stop ransomware, and deny other attacker tools. It also includes instant malware removal to ensure no attack remnants remain.
Advanced Threat Protection Features:
Malware detection - Executable files are checked pre-execution.
Exploit Prevention - Detects and stops over 25 exploit methods used to compromise applications.
File protection - Detect and roll back malicious file encryption activity caused by ransomware.
Application lockdown - Preventing malicious behaviors of applications.
Credential theft protection - Prevents dumping of credentials from Windows credential store on disk, registry, from memory.
Registry Protection - Protects the registry often used to manipulate application and system behavior.
Adversary mitigations - Detects and disrupt an attack that has established a presence on the host.
Safe Browsing - Monitoring web browsers to detect attacks that are common in many viruses'.
Root cause analysis - Provides an explanation of what happened when malicious activity is detected.
Clean and remove - Malware removal capability that will restore tampered Windows files and registries.
Compatibility with other software - Designed to work alongside other software, while designed to be deployed as a single, integrated agent that replaces your existing endpoint protection.
How does Advanced Threat Protection stop ransomware?
Advanced Threat Protection monitors over 70 file types that are often targeted in a ransomware attack. These files are the type that organizations are likely to pay to recover and are primarily focused on customer information, productivity documents, images, audio files, and other sensitive data.
It monitors process activity that interacts with the designated file types and will take a copy of a file prior to any modification. These files are cached on the device and when the files are encrypted the process performing the activity is suspended and examined, stopping a ransomware attack instantly.
Let us protect you
Cyber threats to your business can occur at anytime from anywhere. This makes selecting the right technology extremely important. With an ever increasing risk and growing complexity and volume of attacks, you face a very challenging problem. We are here to face that problem head on for you by implementing new solutions that are simple, yet effective, automated, and synchronized to protect your business against any current or future threats.